Save Money and Energy with Natural Gas Appliances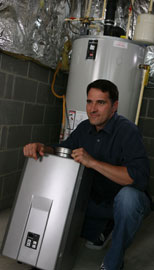 It's a well-known fact that natural gas is the best choice for reliability, comfort and efficiency. Now is the time to buy new, energy-efficient natural gas appliances that will lower your energy use and make your home even more comfortable.

Before you buy a natural gas or other ENERGY STAR® rated home appliance, check state and federal incentives at www.dsireusa.org.*
* Appliance efficiency ratings for each rebate and the tax credit can differ. Be sure to check out applicable dates for all state, federal and Atmos Energy programs.

Energy Efficiency Programs Help Lower Energy Use
Sponsored by Atmos Energy
Colorado Energy Efficiency Program
In partnership with other gas utilities in Colorado, Atmos Energy is offering rebates for energy-efficiency equipment, low-cost energy audits and more for income-qualified customers.
Kansas Energy Efficiency Programs
In partnership with the Kansas State Energy Office, Atmos Energy is helping to facilitate energy-efficiency improvements in homes and small businesses.
Kentucky Energy Efficiency Program
In conjunction with the Kentucky Public Service Commission, Atmos Energy is offering natural gas appliance rebates, conservation education, and home improvement programs to conserve energy.
Texas (Mid-Tex Division) Energy Efficiency Program
Atmos Energy is providing home weatherization assistance to qualified customers to reduce energy consumption and lower energy utility bills.
As of August 1, 2012, Missouri and Iowa energy efficiency programs are offered by Liberty Utilities. Visit Liberty Utilities for details.