Kentucky Energy Efficiency Program - Weatherization Assistance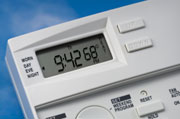 Weatherizing your home can save to 30 percent on home heating costs and make your home more comfortable. The quickest and lowest cost home-improvement projects such as weather-stripping doors, windows and caulking exterior cracks can realize the greatest energy savings. And if you qualify, up to $3,000 in home weatherization assistance is available.
Energy Saving Tips
Atmos Energy has the tools and information to help manage your home's energy use more efficiently, save money on utility bills and learn how your energy use impacts the environment. Click here to find our easy-to-use, online energy management tools.
Low-Income Weatherization Assistance
Our Kentucky customers with an income at or below 150 percent of the federal poverty level-especially the elderly, the physically disadvantaged and families with children—may be eligible for home-weatherization assistance.

Community Action of Kentucky (CAK), in cooperation with the Kentucky Housing Corporation, administers the state's Low-Income Weatherization Program. To apply, contact your local Community Action of Kentucky office.

Once you qualify, an energy auditor will inspect your home to determine what steps will produce the most savings. Qualified homeowners can earned up to $3,000 in weatherization improvements. All work is performed by qualified local contractors and is inspected to ensure completeness and quality of work.

To find a Community Action of Kentucky office near you, click here.