Help your neighbors in need by Sharing the Warmth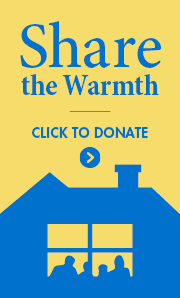 You can help the elderly, the disabled and families in need keep their homes warm by donating to Atmos Energy's Sharing the Warmth program.
All funds are distributed to energy-assistance agencies to help qualified people pay their utility bills.
Atmos Energy supports this community program with donations from our employees, contributions of its shareholders and matching funds in many of the communities we serve.
There are three ways you make a donation:
Login to your Account Center
Or check the donation box on the back of your bill.
Or call 1-888-286-6700 and speak to a Customer Support Representative.
Even a small contribution can mean a lot; $1 a month, $5, $10, $20, or you can "round up" your Atmos Energy payment to the next highest dollar amount. You can change or end your giving at any time. Your donation appears as a separate item on your Atmos Energy bill and you will receive a statement in January for tax purposes. (Please check with your tax consultant to determine applicability.)
Click here to view a list of energy assistance agencies.