Fueling Safe and Thriving Communities
Compassion to give back to the communities we serve is woven into the culture of Atmos Energy. On average, our employees spend more than 35,000 hours each year donating their time and skills to community endeavors and nonprofit organizations. Through our Fueling Safe and Thriving Communities program, we donated more than $14 million in fiscal year 2021 to the places where we live, work, and serve. Our Fueling Safe and Thriving Communities program focuses on three essential pillars:
Fueling bright minds and healthy futures for our kids.
Fueling honor and thanks for our community heroes.
Fueling hope and growth for our neighbors.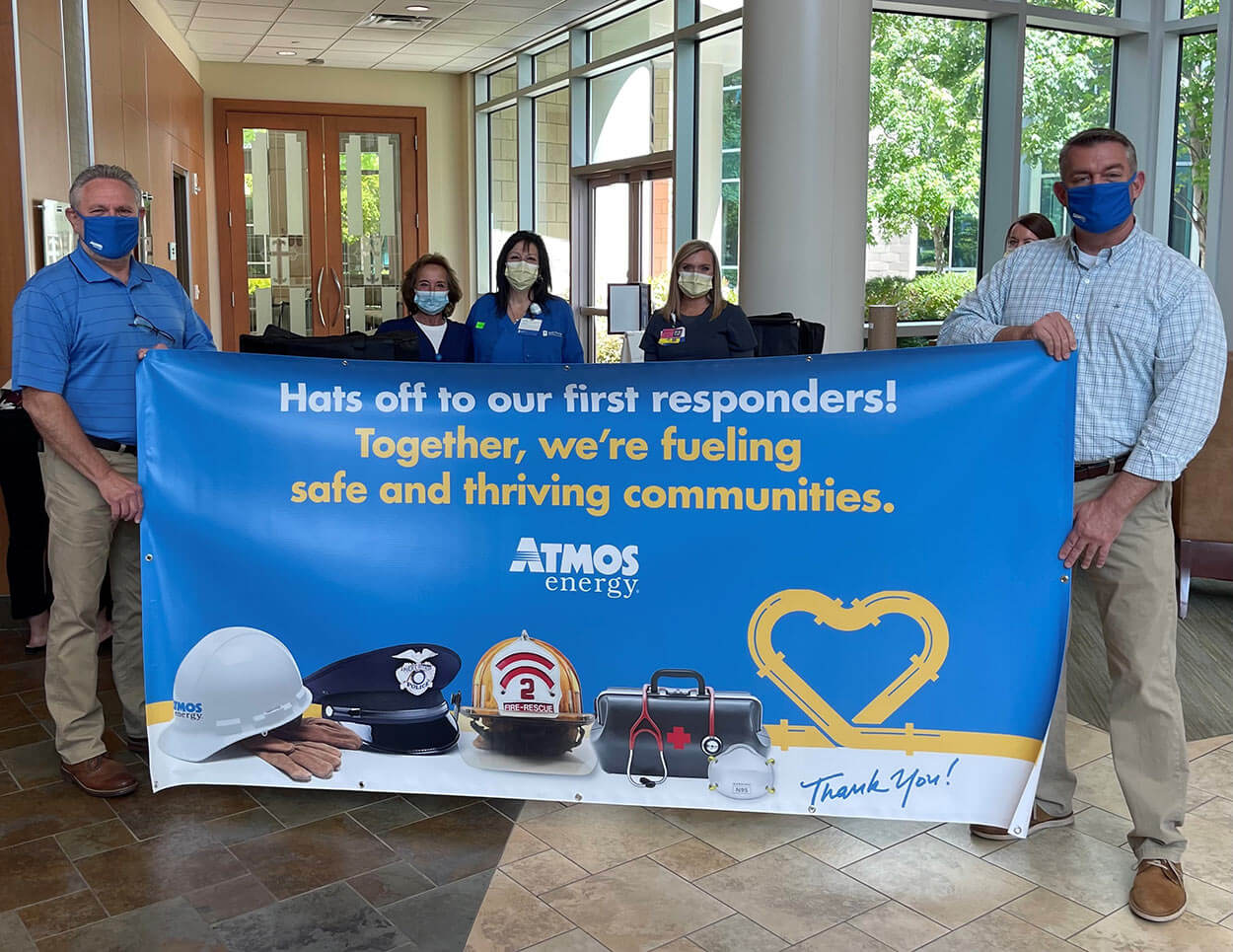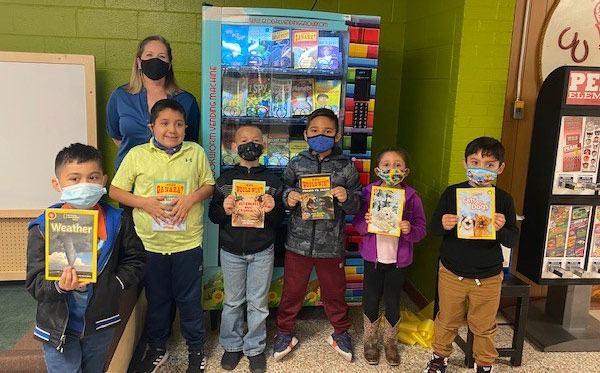 Atmos Energy collaborates with local school districts and education foundations to promote childhood literacy. We help provide the resources needed to help students read at grade level by third grade. Third grade marks the shift from "learning to read" to "reading to learn," which means deficient readers are at greater risk of falling behind.
Children in underserved school districts are more vulnerable to falling behind in grade-level reading proficiency, and remote and hybrid learning necessitated by the COVID-19 pandemic has exacerbated these vulnerabilities to an even greater degree. To improve third-grade literacy scores, Atmos Energy partners with United to Learn, United Way of Metropolitan Dallas, and many other nonprofit organizations dedicated to this cause. Through these partnerships with United Way of Metropolitan Dallas and Vooks, we provided approximately 116,000 one-year Vooks subscriptions to elementary school students and teachers. Vooks is a streaming platform that brings children's books to life with animated illustrations and narrated stories, making reading a more accessible and rewarding activity for parents, children, and teachers.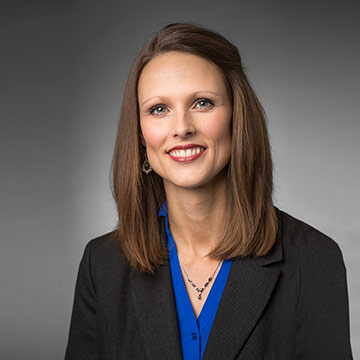 "Fueling Safe and Thriving Communities means we are committed to doing our part to enhance childhood literacy and reduce food insecurity. Our efforts to ensure young children receive the tools they need to read on-level fuels bright minds and healthy futures for our kids."
Becky Palmer, Atmos Energy West Texas Division President
In 2021, Atmos Energy continued its partnership with United to Learn to sponsor their annual Learning Launch program. Learning Launch equips teachers in 47 Dallas ISD elementary schools with critical learning resources that are not addressed through limited public school budgets, including physical objects that aid understanding of writing, books organized in levels of difficulty for an emergent reader, tables, and rugs. At this year's kickoff event, we presented United to Learn with a $50,000 donation to benefit Learning Launch, which will help support 26,100 students and more than 2,100 educators. We also offer our employees volunteer opportunities to help United to Learn with their childhood literacy efforts.
In fiscal year 2021, Atmos Energy donated to River Road Independent School District (RRISD) in Amarillo, TX to support classroom instruction and technology for all students in kindergarten through high school. This gift to RRISD is one of hundreds made by Atmos Energy as part of an enterprise-wide drive to invest in literacy, educational tools, and food security resources across the 1,400 communities we serve.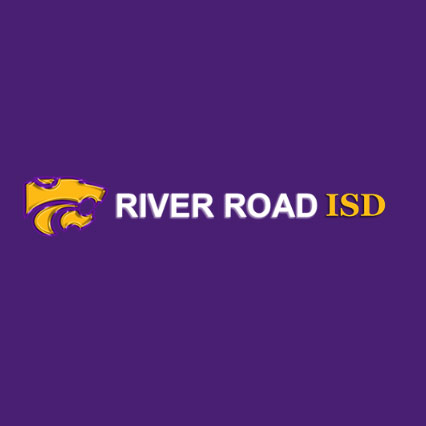 "This wonderful donation comes at a critical time for our district in light of continued learning challenges due to COVID-19. It is evident Atmos Energy is a true, caring community partner. Parents, teachers, staff, and the community will greatly benefit from this timely gift."
Amanda Brown, Board President, River Road Independent School District
Supporting Healthy Futures
In addition to education, Atmos Energy recognizes that easy access to nutritious food and well-being support are critical to a healthy future. This year, Atmos Energy partnered with Fort Lewis College (FLC) in Colorado to improve food security and wellness support services for its diverse student body. FLC is one of six Native American-serving, non-tribal institutions that serves more than 50 percent students of color, with about 44 percent of its students experiencing food insecurity each month.
With a generous donation, Atmos Energy helped sponsor the creation of FLC's Grub Hub Food Pantry, an integrated center for food security and student wellness that offers healthy, fresh groceries and meals to students in need, as well as support services such as Supplemental Nutrition Assistance Program (SNAP) registration, housing assistance, and health care information.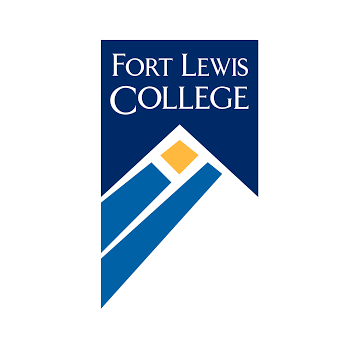 "To shift the dignity of the shopping experience at a food pantry, we wanted to provide students with consistent, fresh options and we also wanted to pay farmers and ranchers a fair market price for their food, which was in alignment with Atmos Energy's philanthropy goals."
Becky Clausen, Faculty Advisor, Fort Lewis College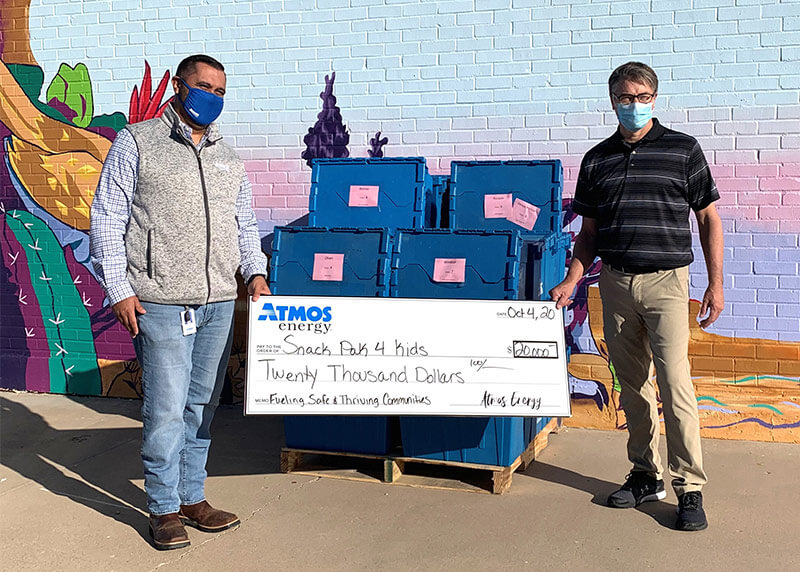 With this funding, student interns are now paid, and Grub Hub has launched a new collaboration with the Good Food Collective to purchase locally sourced food. Of the 7,240 pounds of food distributed last month, nearly 1,000 pounds came in from local producers, an accomplishment made possible through the Atmos Energy gift.
In Texas, Snack Pak 4 Kids (SP4K) provides children with reliable, nutritious food to take home over the weekend. With one in four children in Texas facing food insecurity, SP4K is focused on ending weekend hunger by providing a backpack filled with kid-friendly snacks for students in need who live in the Amarillo area and its surrounding communities.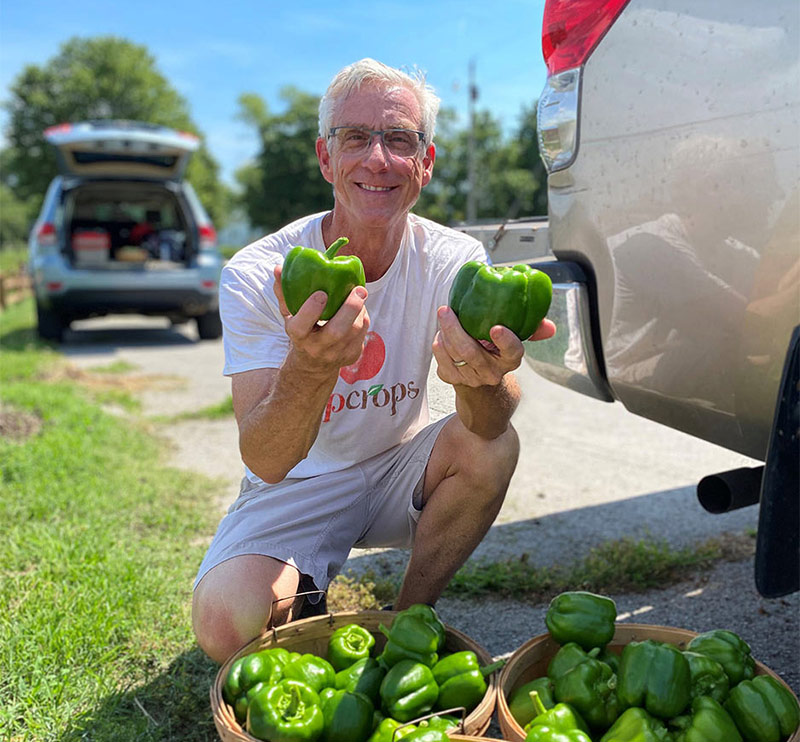 In 2010, founders Dyron and Kelly Howell discovered Amarillo was the largest city west of Dallas without a weekend backpack program. At that time, more than 3,200 children in the Amarillo Independent School District relied only on the meals served to them at school, leaving hundreds of children hungry throughout the weekend. Today, the program serves more than 10,000 kids in 51 school districts and partners with teachers, counselors, principals, or school staff to identify students living in food-insecure households. Each week, volunteers pack bags filled with brand-name nutritious food items and deliver them to participating schools. Once received, school staff transitions the food in the bags to backpacks to be discreetly sent home with students each Friday. The backpack not only supports the student in need but contains enough food to also support any siblings at home who are not school age. Atmos Energy began its partnership with SP4K in 2016 and, through its Fueling Safe and Thriving Communities program, continues to volunteer and donate needed funds to support SP4K's mission.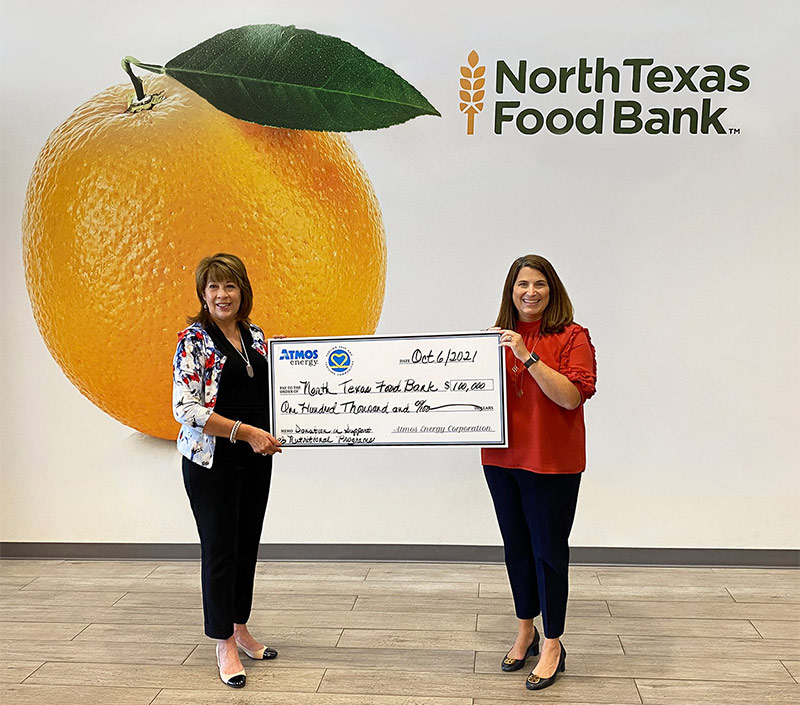 Atmos Energy also continued its eight-year partnership with Top Crops, a continuing education program on the campus of Western Kentucky University that teaches individuals with intellectual disabilities how to become gardeners and sellers of healthy food for the Bowling Green community. In 2021, our employees volunteered to build elevated garden beds, assembled a high tunnel to support an extended growing season, and supported gardeners by planting, harvesting, and preparing produce to be sold. Top Crops produce is sold at the Community Farmers Market in Bowling Green, Kentucky, giving more than 100,000 Warren County residents access to fresh fruits and vegetables.
In 2021, Atmos Energy donated $100,000 to the North Texas Food Bank that will provide 300,000 meals to more than 800,000 North Texas residents who struggle with hunger. The North Texas Food Bank service area has the country's fifth highest number of food-insecure children. It works year-round with schools and social service organizations in 13 counties to provide nutritious foods to kids in need.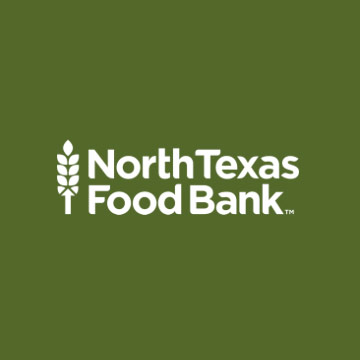 "We are thankful for corporate partners like Atmos Energy that are bridging the gap between hunger and help in North Texas. Their gift addresses the significant hunger needs in our community, including the 1 in 5 children who are facing food insecurity. We are deeply grateful for Atmos Energy's trust and will use these funds to advance our mission of a hunger-free and healthy North Texas."
Trisha Cunningham, President and CEO, North Texas Food Bank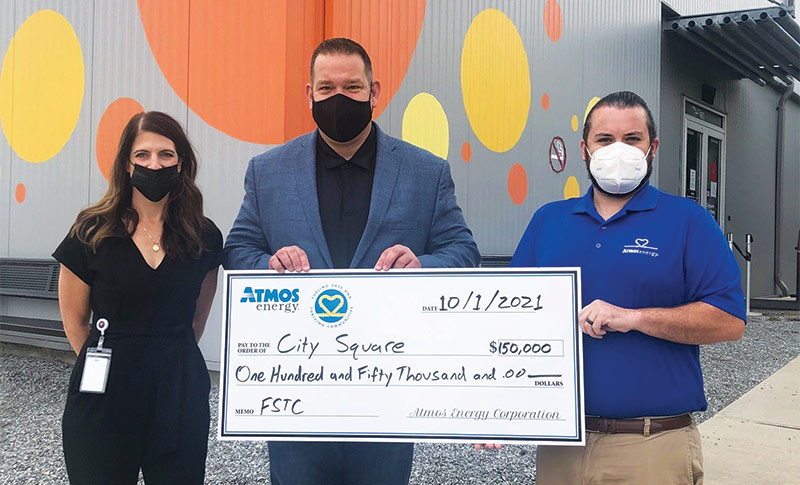 Atmos Energy also donated $150,000 to CitySquare's food programs. Focused on the health of its community, staff, and volunteers, CitySquare operates a drive-thru food pantry and a walk-up station for individuals who walk or take the bus. Groceries are pre-packed to help make the process quick and safe to maintain necessary safety precautions. Because $250 covers the cost of one month's food for a family of four, this donation will help relieve hunger for up to 600 families across the Dallas-Fort Worth metroplex.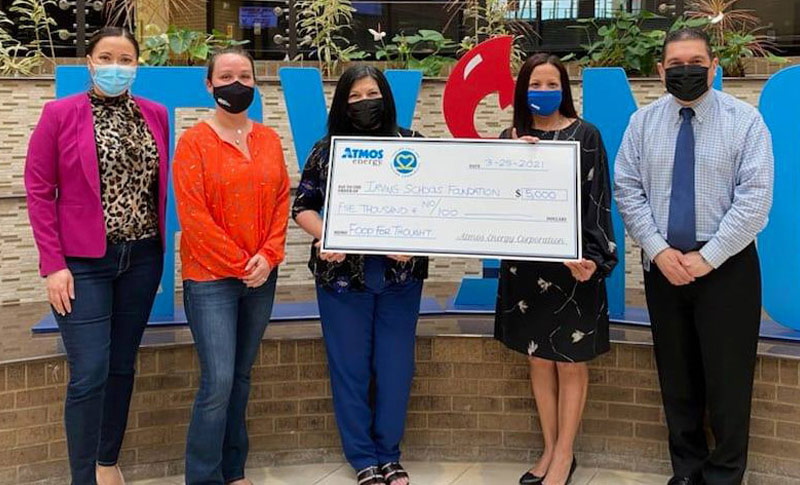 In Dallas County, Atmos Energy is proud to support the Food for Thought program at Irving Schools Foundation, which has provided more than 50,000 meals since 2019. During the school year, Irving Schools Foundation provides 1,400 food bags each week to 35 Irving campuses, which in turn distribute the food bags to students who have been identified as at-risk for food insecurity, or who have asked for help.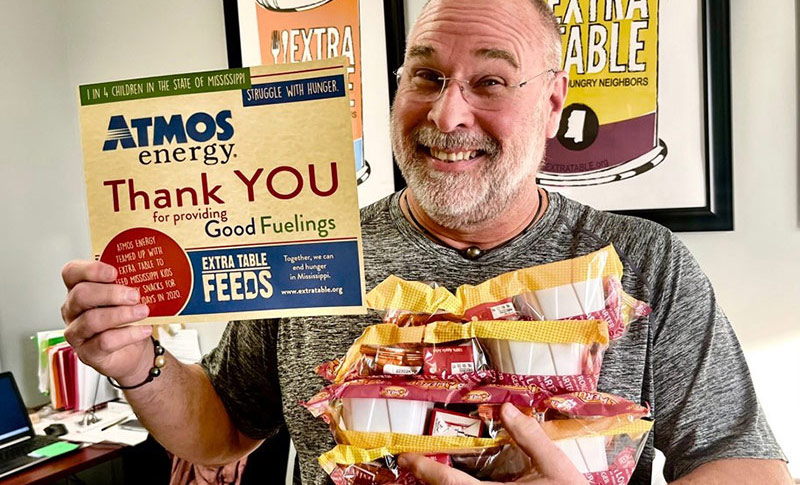 Many of our Mississippi employees chose to support Extra Table by filling company-sponsored healthy snack packs to fight child hunger in the community. Extra Table purchases new, healthy, and shelf-stable food and delivers it monthly to food pantries and soup kitchens across the state.
In 2021, Atmos Energy supported Grand Central Station – The Dining Car Soup Kitchen to help fund their food bank and open kitchen, in addition to feeding Sherman Independent School District students in need.
Atmos Energy shows respect and gratitude to firefighters, police officers, medical teams, veterans, teachers, and many other heroes in our communities by supporting their work in the communities we serve. We partner with local first responders to offer natural gas safety training, promote home safety guidance to residents, and support victims of natural disasters. We provide meals to local medical teams and first responders working around the clock to care for patients in need. We also support educators with school supplies, classroom resources, and tools to improve early childhood literacy.
Meals for Healthcare Heroes
Healthcare professionals are at the front line of protecting and caring for our communities, and their ongoing efforts during the COVID-19 pandemic are nothing short of heroic. To show our appreciation, Atmos Energy partnered with local restaurants across our footprint to deliver more than 25,000 meals to first responders and healthcare workers during National Hospital Week. The initiative provided meals to these community heroes throughout the week while supporting local restaurants that have struggled to stay open during the pandemic.
Supporting First Responders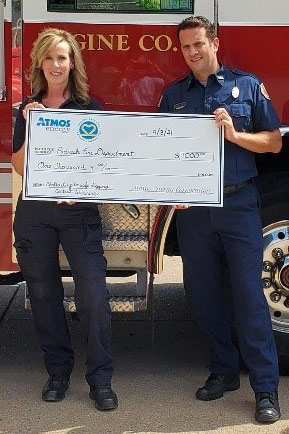 At Atmos Energy, we believe our first responders are an integral part of keeping our communities safe and pay tribute to their selflessness year-round.
In our Colorado and Kansas communities, we embrace celebrating our first responders every day and recently donated $120,000 to our local fire departments and volunteer fire departments so that they could purchase personal protective gear and innovative technology. In addition, this donation supports firefighter training, community safety programs that teach home safety tips and natural disaster preparedness, and search and rescue efforts for victims of avalanches, wildfires, or even white water rafting accidents.
Our Colorado and Kansas firefighter partnerships are echoed throughout the 1,400 communities Atmos Energy serves, with first responder partnerships established across the enterprise. From providing a hearty meal to our paramedics to supporting our police officers' National Night Out programs to funding emergency preparedness education, we support our first responders' heroic efforts to care for our communities.
Helping our communities stay warm during the year is one of Atmos Energy's highest priorities. Through a variety of energy assistance programs, we help eligible customers experiencing financial hardship to pay their gas bills on time every month. We also maintain a partnership with Habitat for Humanity to construct new, energy efficient homes for deserving families.
This year, thanks to donations from Atmos Energy, Habitat for Humanity completed two new homes in Colorado, one of which is a Zero Net Energy home as described here. In addition, we donated to Habitat for Humanity in Amarillo, Texas to provide natural gas infrastructure and high-efficiency ENERGY STAR natural gas appliances to six new homes in a new development in the El Barrio neighborhood.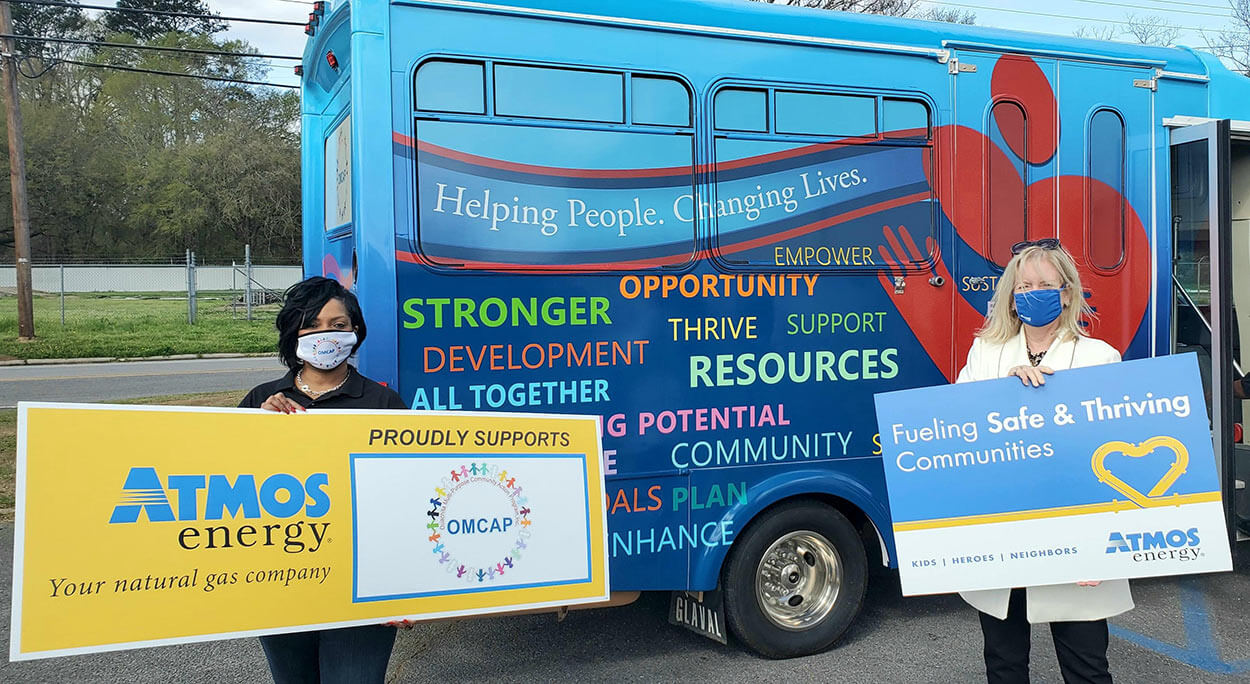 Throughout the year, Atmos Energy offers financial assistance to the elderly, the disabled, veterans, and income-qualified families in our service areas struggling to pay their gas bills. Our Sharing the Warmth program is supported by donations from our customers and Atmos Energy. This program distributes funds to local nonprofit organizations that provide utility bill assistance. We also partner with nonprofit agencies that participate in the federally funded Low Income Home Energy Assistance Program (LIHEAP), which helps meet the energy needs of underserved families.
To supplement the $3.6 million in Sharing the Warmth contributions, Atmos Energy donated an additional $2 million to over 100 agencies and nonprofits across the eight states we serve. These funds not only provide support to customers for utility bills but also weatherization upgrades, in addition to repair and replacement of customer-owned natural gas appliances and piping.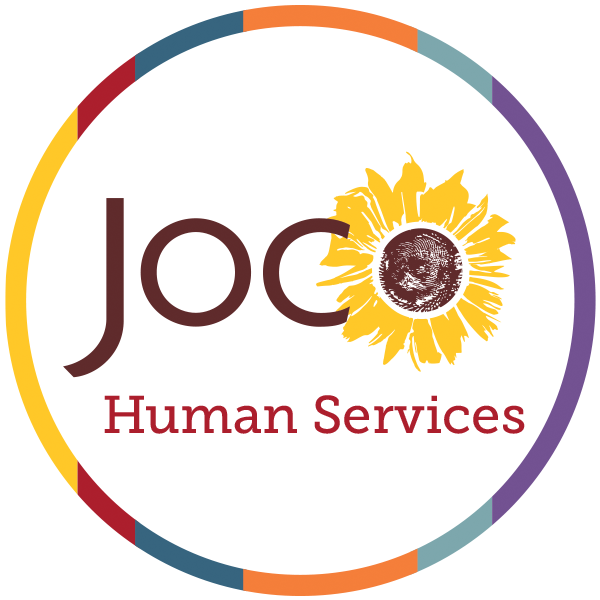 "Sharing the Warmth funds really benefit people on fixed incomes between $750 and $1,250 per month. When our clients receive Sharing the Warmth funds, they leave my office saying they will be able to sleep soundly now that a weight has been lifted off their shoulders."
Kay Lowe, Multi-Service Center Manager, Johnson County, Kansas Human Services Department
Atmos Energy has offered a Conservation and Energy Efficiency Program in the Mid-Tex service area since 2008. In the past year this program, referred to as Keeping the Warmth, helped 334 income-qualified and senior citizen households reduce their energy consumption and lower utility bills. Atmos Energy customers who are at or below 200 percent of the federal poverty guidelines may apply for Keeping the Warmth assistance through one of our partner agencies to receive materials and installation services such as:
Gas water heater blankets
Gas heater and water heater replacement
Attic, wall, and floor insulation
Caulking, weather-stripping, and duct sealing
Wall outlet covers, aerators, and carbon monoxide detectors
Virtual Energy Assistance Blitzes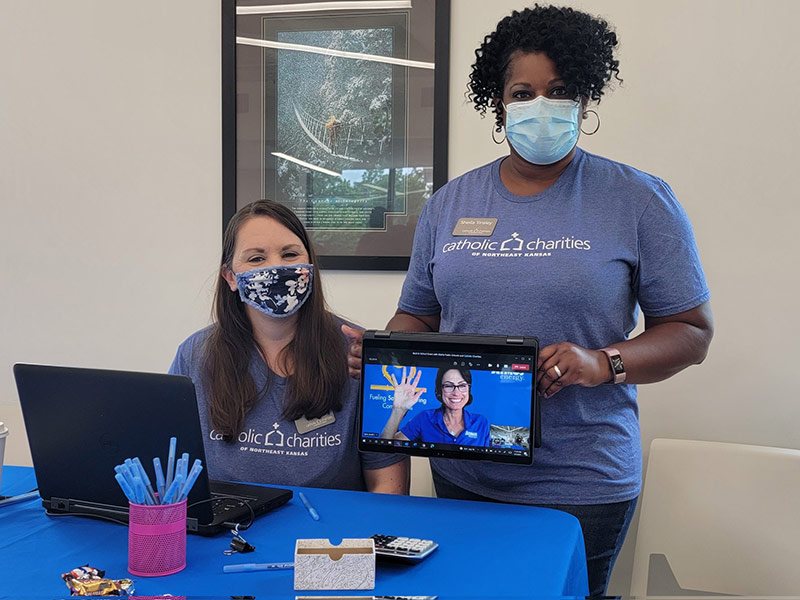 To better provide immediate and easy access to funding throughout the pandemic, Atmos Energy continued its partnership with local energy assistance agencies to host virtual "blitzes." These virtual events took place on a designated day and distributed bill assistance to qualified customers via phone. Atmos Energy collaborated with our Energy Assistance team to make this previously face-to-face process completely virtual by installing in-home technologies capable of supporting the process. Our investment allowed Atmos Energy customers to continue receiving funding on the spot for past-due debt, deposits, and service charges. In 2021, through intentional outreach, education, and communication with its community action agencies, nonprofits, and customers, Atmos Energy helped 53,445 households receive assistance through LIHEAP, Sharing the Warmth, and other programs.