CEO Letter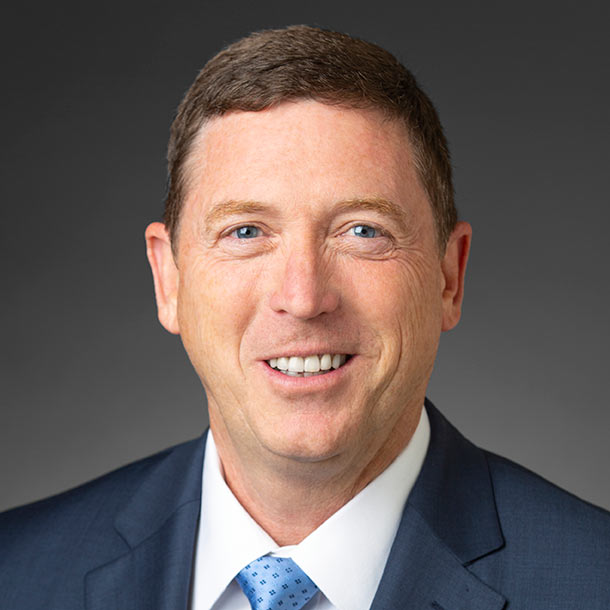 A MESSAGE FROM LEADERSHIP
Letter to Our Stakeholders
For nearly a quarter century, Atmos Energy's culture, AtmoSpirit, has been the foundation of our enduring success. The five principles: Inspire Trust, Be at Your Best, Bring Out the Best in Others, Make a Difference, and Focus on the Future capture the values, beliefs, and behaviors we embrace. Those principles guide us as we provide safe and reliable natural gas service to more than 3 million customers across 1,400 communities and eight states.
Our 2021 Corporate Responsibility & Sustainability Report highlights the exceptional work of our Atmos Energy team in many areas. These include our employees, public and pipeline safety, system modernization, methane emission reduction, community support, and our culture.
We continued our investment strategy of operating safely and reliably while we modernized our natural gas distribution, transmission, and storage systems. We invested $2 billion dollars with approximately 88 percent dedicated to safety and reliability projects. That investment and the modernization of our systems, especially the last 10 years, provided the reliability necessary to serve our human needs customers during Winter Storm Uri in February 2021.
Our system modernization projects have yielded an approximate 20 percent reduction in methane emissions since 2017. We are making excellent progress towards our goal of reducing methane emissions 50 percent by 2035 from 2017 levels for EPA-reported distribution mains and services.
Furthering our commitment to safety, we enhanced our training curriculum to include a balance of virtual classroom training, guided hands-on experience, and peer mentorship. Delivering nearly 89,000 hours of health and safety training in fiscal year 2021, Atmos Energy has now delivered nearly 1.8 million hours of training to our employees since 2011.
In addition to modernizing our systems and enhancing our training curriculum, we integrated safety and business process improvement initiatives into a comprehensive environmental strategy. Our environmental strategy is focused on reducing our Scope 1, 2, and 3 emissions and environmental impacts from our operations in five key areas: Gas Supply, Operations, Fleet, Facilities, and Customers.
This report's Environmental and Operational Sustainability section details our progress in those five key areas. Some examples are the installation of methane monitoring equipment such as Gas Cloud Imaging capabilities in our storage fields, transitioning our light duty vehicle fleet to gasoline-hybrid vehicles and our heavy-duty vehicles to compressed natural gas, the continued expansion of Renewable Natural Gas in our systems, and the further deployment of advanced leak detection technologies.
Our first Zero Net Energy (ZNE) home is also detailed in this year's report. This home was possible because of valued partnerships like that with the Greeley-Weld Habitat for Humanity in Colorado. The ZNE home uses high-efficiency natural gas appliances, rooftop solar panels, and innovative weatherization to produce more energy than it consumes at a very affordable cost for the homeowner. Providing this family with a natural gas home that is environmentally friendly and cost efficient is just one way Atmos Energy Fuels Safe and Thriving Communities. This project and two more ZNE homes being developed in Texas demonstrate the role and value of natural gas in helping customers reduce their carbon footprint at home in an affordable manner.
At Atmos Energy, the commitment to Making a Difference for our neighbors and the communities we serve runs deep. We Fuel Safe and Thriving Communities by supporting schools and students with books, meals, and snacks; honoring our community heroes; planting trees; working in community gardens; hosting utility fairs; and conducting energy assistance blitzes to assist our customers with financial support.
Our continued success is possible because of our employees' dedication to being the safest provider of natural gas services. They are the heart and soul of Atmos Energy, and I am extremely proud of their commitment to keep our customers, our communities, themselves, and their families healthy and safe.
Focusing on long-term sustainability has always been a part of Atmos Energy's strategy and is reflected in the vital role we play in every community, safely delivering reliable, affordable, efficient, and abundant natural gas to homes, businesses, and industries to fuel our energy needs now and in the future.

J. Kevin Akers
President and Chief Executive Officer
This report highlights our Environmental, Social, and Governance (ESG) strategy and commitments and the progress we have made executing our ESG strategy and meeting our commitments. Although the information shared primarily covers our activities during fiscal year 2021, we've also included a few examples of our efforts from late 2020 and early 2022 to provide context on our progress and direction. Additionally, certain data points included in the report are measured on a calendar year basis and reflect information from calendar year 2020.
Atmos Energy supports the recommendations of the Task Force on Climate-Related Financial Disclosures (TCFD) and has committed to work towards implementing these recommendations. In fiscal year 2021, we initiated a deliberate, enterprise-wide approach for implementing TCFD recommendations over time and began incorporating elements of this framework into our fiscal year 2021 corporate responsibility reporting under the oversight of the Corporate Responsibility, Sustainability, & Safety Committee of our Board of Directors.
In fiscal year 2022, a team of senior leaders began a materiality assessment process with input from internal and external stakeholders to enhance our understanding of current and potential ESG impacts. In identifying material topics across our enterprise, the team is focused on those that both align with our vision, principles, purpose, strategy, and geographic footprint, and affect customers, employees, communities, regulatory agencies, and other stakeholders in the regions where we operate. Continued implementation of this reporting framework underscores our commitment to adopting meaningful sustainability practices and reporting capabilities.
We have also aligned our reporting with the Sustainability Accounting Standards Board (SASB) and continue to report ESG metrics through the American Gas Association's ESG/Sustainability template and the Global Reporting Initiative (GRI) index.
CAUTIONARY STATEMENT This material includes forward-looking statements. These statements can be identified because they use words such as "anticipate," "believe," "estimate," "may," "could," "expect," "forecast," "target," "goal," "intend," "objective," "plan," "projection," "seek," "strategy," or similar words. Similarly, statements that describe future plans or strategies and future emissions reductions are forward-looking statements. Such forward-looking statements are subject to risks and uncertainties that could cause actual results to differ materially from those expressed or implied in the statements. These risks and uncertainties include the following: federal, state, and local regulatory and political trends and decisions; increased federal regulatory oversight and potential penalties; possible increased federal, state, and local regulation of the safety of our operations; the impact of greenhouse gas emissions or other legislation or regulations intended to address climate change; possible significant costs and liabilities resulting from pipeline integrity and other similar programs and related repairs; the impact of climate change; increased dependence on technology that may hinder the Company's business if such technologies fail; our ability to continue to access the credit and capital markets to execute our business strategy; the impact of adverse economic conditions on our customers; and other risk factors discussed under Part I, Item 1A, Risk Factors, and Part II, Item 7, Management's Discussion and Analysis of Financial Condition and Results of Operations, Cautionary Statement for the Purposes of the Safe Harbor under the Private Securities Litigation Reform Act of 1995 in our Annual Report on Form 10-K for the fiscal year ended September 30, 2021, which should be read in conjunction with the forward-looking statements in this report. Atmos Energy undertakes no obligation to update or revise any of our forward-looking statements whether as a result of new information, future events, or otherwise.
MATERIALITY STATEMENT Throughout this report, we report on issues material to our stakeholders in this context. It should not be confused with materiality for financial or regulatory purposes. Issues deemed material for the purposes of this report may not be considered material for SEC reporting purposes.
Serving more than
3 million
distribution customers
77,620 miles
of distribution and transmission pipelines
Overview and Vision
Atmos Energy Corporation, an S&P 500 company headquartered in Dallas, is the country's largest natural gas-only distributor. We safely deliver reliable, efficient, and abundant natural gas to more than 3 million distribution customers in over 1,400 communities across eight states. Atmos Energy manages proprietary pipeline and storage assets, including one of the largest intrastate natural gas pipeline systems in Texas.
Our vision is for Atmos Energy to be the Safest provider of natural gas services. We will be recognized for Exceptional Customer Service, for being a Great Employer, and for achieving Superior Financial Results.
Our ESG strategy aligns with our vision of being the safest provider of natural gas, with our culture founded on AtmoSpirit principles, and with our purpose and corporate strategy. This alignment focuses our resources on the intersection of matters that are material to our business and where we can have the greatest impact. For us, this means hiring and training a diverse and engaged workforce, investing in safety, focusing on operational and environmental sustainability, and Fueling Safe and Thriving Communities.
Employees
For nearly a quarter century, Atmos Energy's culture, AtmoSpirit, has been the foundation of our enduring success. AtmoSpirit principles are the beliefs and behaviors we embrace as a company and strive to embody as individuals at work, in our communities, and at home. AtmoSpirit is reflected in five core principles:
Inspire Trust
Be at Your Best
Bring Out the Best in Others
Make a Difference
Focus on the Future
Every Atmos Energy employee is introduced to the AtmoSpirit principles and attends Atmos Energy Essentials, an introductory program facilitated by fellow employees who exemplify AtmoSpirit.
Financial Overview
Atmos Energy is committed to creating sustainable, long-term value. In fiscal year 2021, earnings per diluted share increased for the 19th consecutive year, and dividends increased for the 37th consecutive year. We invested $2.0 billion in modernizing our distribution and transmission system. Our consistent investment in the safety and reliability of our assets supports our long-term earnings and dividends per share growth target of 6 to 8 percent.
| | |
| --- | --- |
| $3.24B | Operating revenue in fiscal year 2021, a 23.4% increase over the previous year. |
| 3 million | Regulated distribution assets in eight states serving more than 3 million customers. |
| $13B to $14B | Projected capital expenditures of $13 billion to $14 billion through fiscal year 2026; over 80% spent on safety and reliability. |
| 90% | 99% | Earning on about 90% of annual capital expenditures within 6 months and on 99% within 12 months. |
| 6% to 8% | 6% to 8% forecasted earnings and dividends per share growth through fiscal year 2026. |
| 37 years | 37 consecutive years of annual dividend growth; 19 consecutive years of annual earnings per share growth. |
Customers
Atmos Energy has a long-standing tradition for Fueling Safe and Thriving Communities. We have grown from 279,000 customers in 1983 to more than 3 million customers today. With almost 78,000 miles of distribution and transmission pipelines, the company has regulated utility operations in Colorado, Kansas, Kentucky, Louisiana, Mississippi, Tennessee, Texas, and Virginia. We proudly provide safe, reliable, and efficient natural gas to residential, commercial, and industrial customers. To foster a positive customer experience, we encourage feedback through surveys, as well as promoting natural gas safety.
Operations Overview
Atmos Energy originally started out in the Panhandle of Texas in 1906 and has since grown to be the largest natural gas-only distributor in the United States with operations in eight states. We work closely with state and federal regulators to operate a safe and reliable natural gas system across all of our divisions.
Atmos Pipeline-Texas Division
Colorado-Kansas Division
Kentucky/Mid-States Division
Louisiana Division
Mid-Tex Division
Mississippi Division
West Texas Division
Map of Our Service Areas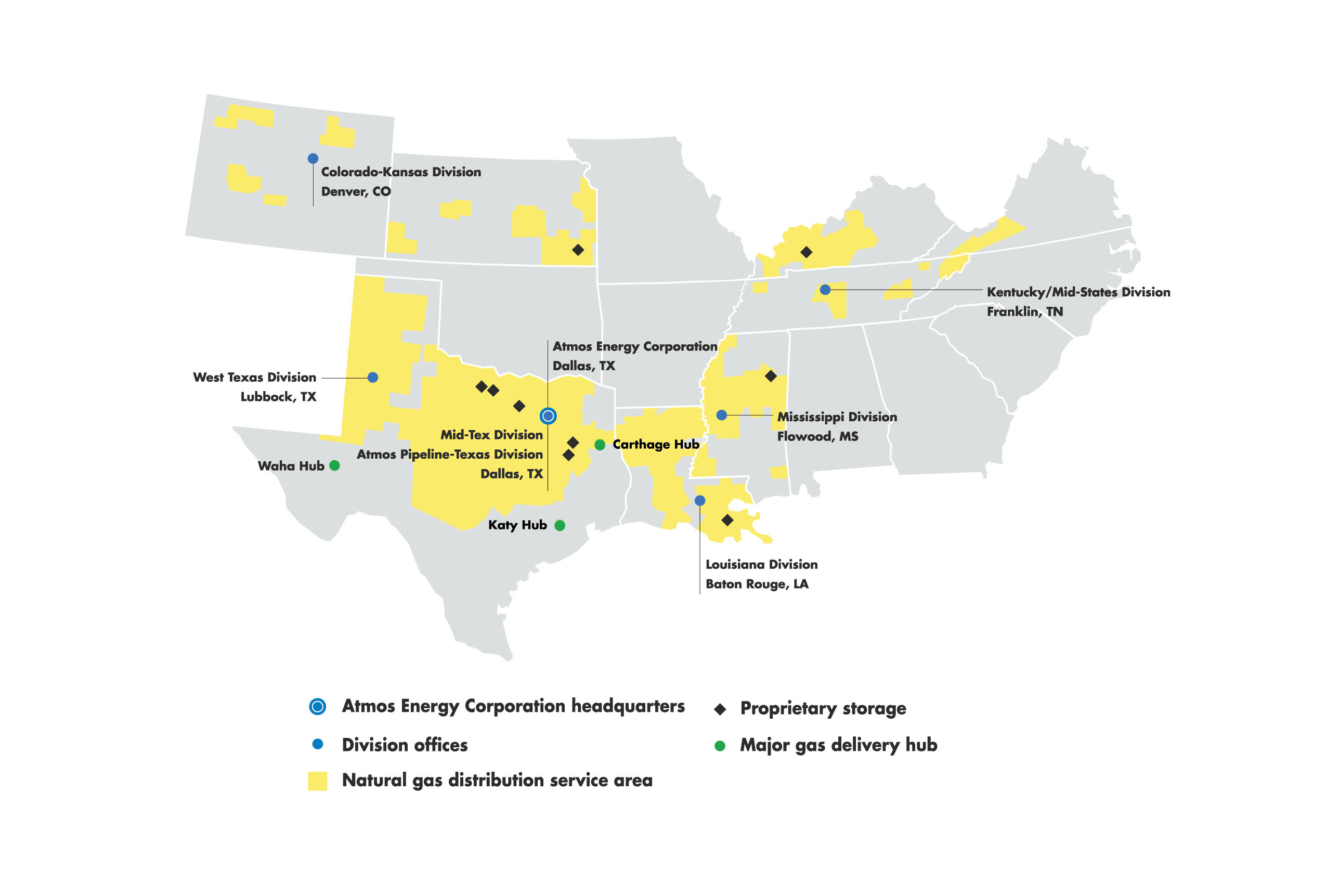 We also own and operate 17 underground gas storage facilities, totaling ~60 billion cubic feet (Bcf) in working capacity in Kansas, Kentucky, Mississippi, and Texas. Atmos Pipeline-Texas, with approximately 5,700 miles of transmission pipelines across the state, manages two-thirds of our ~60 Bcf working storage capacity and provides transportation and storage services to other local distribution companies.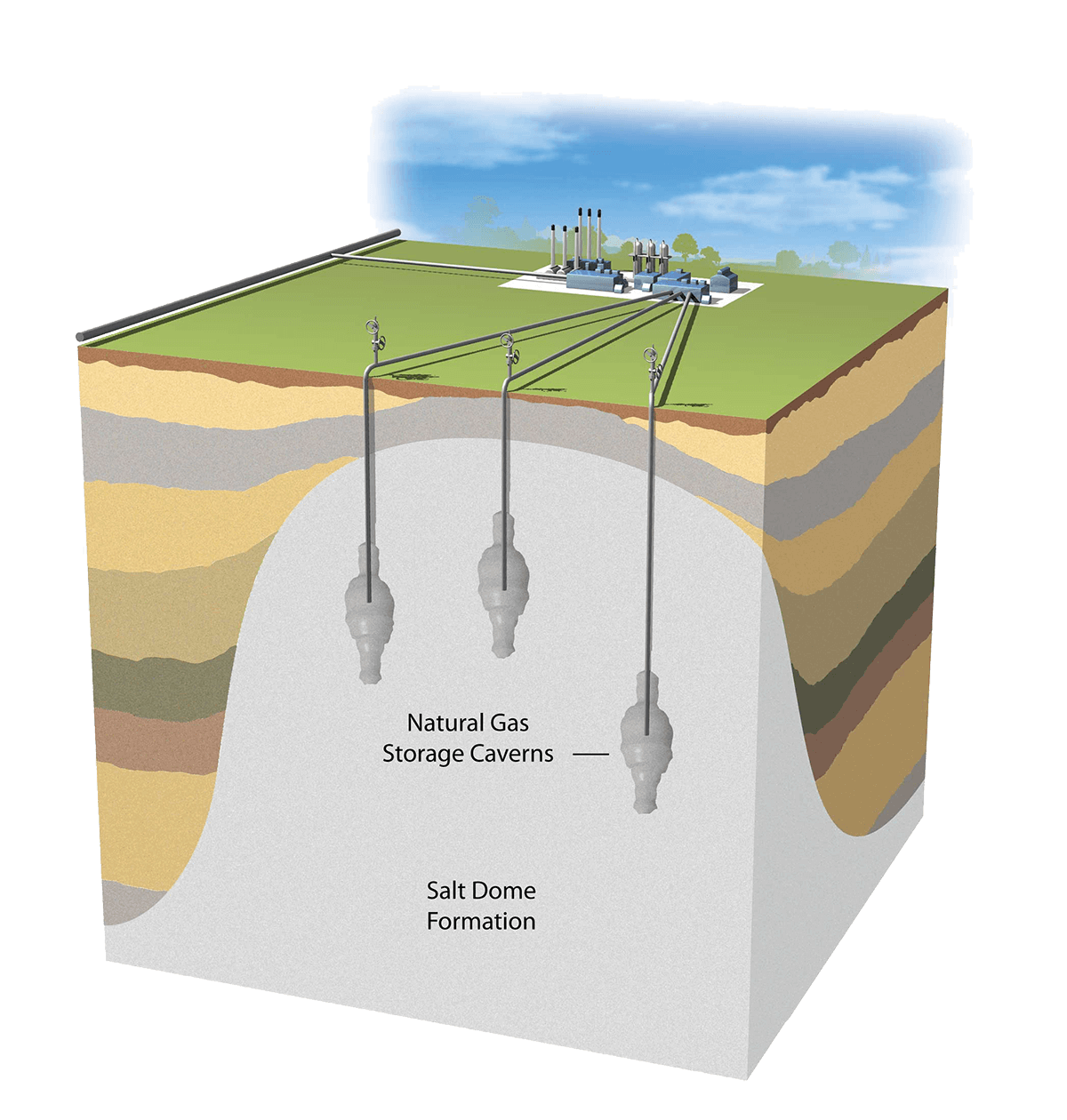 Salt-Dome Natural Gas Storage
In addition to our two existing caverns, we are constructing a third cavern at our Bethel facility in Texas which will provide expanded storage capacity to meet projected growth:
Additional 5-6 Bcf of working gas capacity and 2 Bcf of withdrawal
Projected service date starting in late 2022
Timing covers required outages of existing two caverns to be completed by 2025
Industry Quick Facts[1]
1.2%
average annual decline in carbon emissions from natural gas homes
4.1 million
jobs connected to the natural gas industry
83%
of natural gas industry jobs are local
$1,041 saved
by homes that use natural gas instead of electricity, on average
$140 billion
saved by families over 10 years by using natural gas
$500 billion
saved by American businesses in energy costs over the last 10 years
Natural gas is not only affordable, safe, and reliable, it is also instrumental in maintaining the resiliency of our nation's energy system and achieving a lower carbon economy that meets our nation's climate goals. The U.S. Energy Information Administration projects only 0.5 percent annual growth in the residential price of natural gas from 2019 until 2050, making it a competitive energy source for consumers well into the future.[2]
Even as renewable energy sources are developed and explored, natural gas continues to be an important part of the energy solution in the United States. The frequency and severity of extreme weather events consistently puts the U.S. energy system at risk. Over the last 50 years, much of the U.S. has experienced an increasing amount of extreme weather including prolonged periods of excessively high and low temperatures, heavy downpours, flooding, droughts, and severe storm activity (NOAA. 2018. Fourth National Climate Assessment). In particular, Atmos Energy's communities were significantly affected by record low temperatures in February 2021. Thanks to our reliable natural gas storage facilities and the dedicated efforts of our employees, virtually all of Atmos Energy's human needs customers were able to keep services operational throughout the historic winter weather event.
Not only is Atmos Energy in the business of transporting a reliable and resilient product, we provide affordable and efficient energy that helps communities to grow and thrive. We are creating jobs, helping to protect the environment, storing natural gas to meet customer demand, maintaining system resiliency throughout the year, and providing affordable energy access to families across America.
[1] Source: American Gas Association Playbook
[2] Source: EIA Annual Energy Outlook 2020 report